Empleamos cookies para personalizar el contenido que te mostramos y para analizar el acceso a nuestra web. Además, damos información del uso de nuestra web a nuestros socios para emails, publicidad y análisis. Ver detalles
Blue Mountains Imágenes y fotos
Consulta una gran selección de fotos de la sección Blue Mountains.
Viaje / Australia & Oceania / Australia / New South Wales
Blue Mountains
The Blue Mountains National Park is a national park in New South Wales (Australia), 81 km west of Sydney, located in the Blue Mountains region of the Great Dividing Range. The park covers over 2,482 km², but the boundary of the park is quite irregular as it is broken up by roads, urban areas and inholdings. Despite the name \'mountains\', the park is actually an uplifted plateau, dissected by a number of larger rivers. The highest point in the park is Mount Werong (1215 m), while the low point is on the Nepean River (20 m) as it leaves the park. The mountains received their name due to the blue tinge that they have in summer, a result of oil haze from the plentiful eucalyptus trees.
Buscar
Todas las secciones principales
Lamentablemente, la sección no existe. Por favor, inténtalo de nuevo con un término más general.
Últimas secciones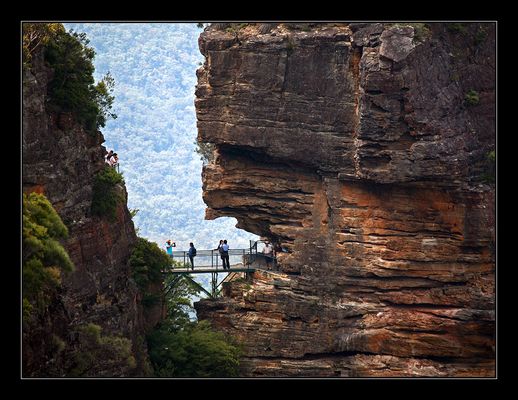 138 Fotos | Página 1 de 3
Tu lista personal de imágenes para el tema "Blue Mountains" con actualizaciones diarias.